Holy cow, another "up and at 'em" at 4:00 a.m. This means that the streak of getting up before I should has remained perfect during my week of vacation. Seriously, there should be a law against this.
Last night, I had the bright idea of taking a "water pill" before bed because I'd forgotten to take it earlier in the day and between the ridiculous amount of salt I consumed at the shower yesterday (Fritos, cucumber sandwiches, spinach dip, cheese straws and sausage balls) and the Coke Zero that I purchased in line at T.J. Maxx (yes, another return) because I thought I might perish in that line before I got another drop of liquid...made me feel a lot like Violet in "Willie Wonka" minus the purple.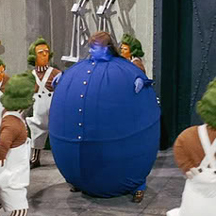 Back to that "in the line" comment...I have to give a "well played" to T.J. Maxx for figuring out that herding people in a snaking line that looks like pre-teens lined up for a Justin Bieber concert, moving at the pace of a Friday afternoon at work, and then putting a refrigerator full of soft drinks at the point where you think that you might not make it to the register but you can't fight your way back out of the line because there are 2,000 people in various states of frustration...was pure marketing genius. I only waited in line for eight minutes, but that little burst of liquid anything combined with a small jolt of caffeine kept me from wanting to be a tee-total whatever to the unfortunate soul clerking that day when I eventually made it to the counter. Naturally, I was destined to be waited on by a lady who was obviously angry that she had to work at T.J. Maxx on a beautiful (albeit humid as all get-out) Saturday because her disdain for me was fairly apparent. Of course, it may have been that she recognized me from my many trips in and out of there to purchase and return, purchase and return. I may even have my photo in the breakroom as "Returner of the Month." Who knows?
Yesterday, I actually had three items in the cart after I waited to return the rug (and purchase the Coke Zero) and looked at the python of a line and said "no, thank you" and put back the vase, throw and pillow that would have exhausted the store credit that I had burning a hole in my Dave Ramsey wallet from said return because part of it was paid for on a Visa Gift Card that was a rebate from purchasing tires the month before.
See those nice little slots where cash is supposed to go? If only.
But the rug has been returned, and I have $28.75 to spend on something fabulous assuming that Jill doesn't read this and confiscate said card. Which could totally happen. She can sense that I am carrying around a card with a credit balance on it like I can sense that someone has cake in the breakroom at work. It's a gift, really.
Anyway, I got up twice last night, tripped over the dogs who were stretched out by the bed who knew by the darkness that it wasn't time to get up to beg for food, and stumbled my way to the bathroom. Riley lifted his head and shot me a look that I could see from the Vizio was "Wench, why are you up again?" Yes, I go to sleep with the TV on and the DirecTV box shuts off after four hours or so of non-activity that leaves a glow on the screen that is not quite as annoying as the bathroom light that Big Dave turns on every morning that shines enough light for me to wake up "naturally" at the ungodly hour of 5:30 a.m. almost every morning of my life. It is one of the few things that he does that truly annoys me, bless his early rising little heart.
But I digress...
When I came back from the second trip, I realized that my CPAP mask had come undone from the tubing and would require taping (I have a fabric mask. And yes, it's pink. My new one...that will be here this week...is blue. The only available one they had was "camo" and NO. Just no.) So, I got up. And I was none too happy about it.
Again. Seriously, who doesn't sleep in at least one day of their vacation? Answer? Me. Plus, if the temperature in the house is not on "Antarctica"...I can't sleep. Poor Brecksyn has to use a heater in the bathroom when she visits because she'd freeze solid without it. It is cold in the winter because we won't turn on the heat, and it's cold in the summer because I hate sweating more than I hate being Alabama Power's bit...whatever.
I don't know what it is about me and vacation days this year, but I am downright determined not to have fun on any of them. The first two I took in May involved running errands and doing colonoscopy prep. Yes. The last five that I've just wrapped up in June have involved me running from one end of the earth to the other trying desperately to get through a to-do list that was not only optimistic...but downright ridiculous. Here's a sample of some of what I've actually done:
Returned a package that was sent here a week ago and needed to get back to its original owner along with the first slipcover I purchased for "Big Roy" (the chair in Casa Jill that I purchased for $10 at the Deer Creek yard sale earlier this month).
Found a bedside table after purchasing several that didn't work.
Went to see something that I saw on a super-secret trading group that will work for us.
Attended a baby shower in Greenville, a Fathers Day celebration in Mobile, found an apartment in Huntsville, and got peach ice cream (and a basket of not quite ready for eating peaches but we're eating them anyway) in Clanton at Peach Park.
Returned everything under the sun to Lowe's, Home Depot, T.J. Maxx and Ross for Less.
Attempted to make curtains with burlap and muslin. Still a work in progress.
Managed to eat at Hardees, Wendy's, Popeye's, Publix deli, Mimi's Cafe, Moe's, East China, Panera Bread, Street Cafe, McDonald's, Olive Garden and Arby's...many of them with coupons or gift cards. (This is not as much an accomplishment as a cry for help, just so you know.)
Oversaw the security system upgrades here and at Casa Jill. Okay, they still aren't completely finished, but whatever.
Purchased a TV mount from a place that I had to find...which is difficult when you are only told the general direction, part of the name, and you are as directionally impaired as I apparently am. (But to pay half of what I would at Costco? Score!)
Spent "quality time" with Jill for two days...and we both survived with our relationship intact. (I think so, anyway.)
Did laundry, cleaned the laundry room and the kitchen, and got as far as the dining room table which is currently covered in all kinds of stuff that desperately needs a home, organizing, filing, or eradication.
Got my CPAP machine tube replaced and ordered the new mask that I am apparently able to get once a year covered by insurance. (Rock. On.)
Floated in the pool for two hours, read two books, and wrote on the blog twice or maybe three times. Can't remember.
Schooled one of Jill's neighbors because she desperately asked for it. (Heifer.)
I'm actually looking forward to going back to work and the gym so that I can possibly sleep longer than six hours a night and can remember to take the "water pill" in the morning instead of 10:00 p.m. like a moron because I'm on some kind of schedule. Plus, I need to get off of T.J. Maxx' list of "uncommitted shoppers." You know...people who buy stuff and then return it. I'm sure that they hate people like me. But when you have no decorating taste whatsoever, and you are trying to be helpful, you can't read your 23 year old daughter's mind as to what constitutes "cute"...there's a whole lot of trial and error involved.
And returns are just an outgrowth of that.
I have learned a few things about shopping at T.J. Maxx, though. I've learned that they are mighty proud of their furniture. They have some really cute chairs and tables, benches and lamps, and other assorted decorating pieces...but they want about twice as much for them as I can see them being worth. I can also tell you that on more than one occasion, a woman has purchased something that was in plain view that I just didn't see. Yesterday, it was a shabby chic three paneled screen that would have looked precious in Jill's dining room. Or so I think now that she has it in her cart assisted by one poor guy who is apparently the "carry it to your car" guy for them. I walked by it all week. It was also priced fairly...which, in my humble opinion, was a first. Hopefully you are aware that you have to really inspect what you purchase because for some items, the reason that they are there in the first place is because there's a ding (like a missing beak on a bird) or some bizarre color that looks like it would match anything...but in reality has orange undertones that make whatever color you put with it bring out that orange (kind of like my skin does with most anything...which is why I can only wear a few things in the makeup world, sadly). I've had both of these occur just this past week alone.
In case you care, judging by what was at the Maxx, birds are in right now. As is burlap. Or maybe that was what has come and gone in the other 49 states and we are just getting around to it. That's normally the way the South rolls. We didn't get the memo on "big hair" until "Friends" came on in the 1990s and "The Rachel" became a popular hairstyle. I understand that it was recently revealed that her stylist was high when he gave her that haircut.
I know I've been to some people that I've been convinced were high when they've cut my hair. But I've digressed. Again.
Where was I? Oh...the Maxx.
Anyway, I've also learned that if it is something that would be "perfect in the house" that it will be ridiculously priced or the number you want will not be available. So not kidding.
But that wasn't the only stop I made yesterday afternoon. I also went to Plato's Closet because I have a bag of clothes in the car that Jill went through and won't wear anymore. They took four items and paid me $25. I'm keeping it for my trouble. The rest is going on eBay.
I don't know if any of you have used eBay to sell things, but I have done so off and on since 2006. I've only had one or two unfortunate incidents...one as a purchaser the first involving a Marlboro-laced box of scrapbooking supplies that were not what they stated to be (yes, I got my money back) and one as a seller (a cell phone I sold for someone didn't arrive...and they filed for reimbursement...and I didn't know because I don't go on there that often. Fortunately, I had insured it with the U.S. Postal Service, and after jumping through their hoops...got my money back.) But the last "unfortunate incident" means that I have a 0% positive rating now from the 100% that I had enjoyed from 2006 until this year. Of course, the fact that other than that one item, I haven't sold anything in a year is supposedly responsible...but I'm pretty ticked that I'm a big, fat zero.
I'm probably going to spend a few hours putting some of the items Jill has on eBay because they are from Ann Taylor LOFT and in great condition. Plato's Closet wouldn't take them because they are considered "missy" items. Whatever. Plato's got two great deals in what I dropped off there yesterday...but I also know that this was my final trip because she has completely purged her closet now of anything that might be considered "trendy."
Good for her.
I noticed that they didn't take the one-shoulder tops and dresses...so apparently those are "out of style." I always thought that they looked a little bit Flintstones-ish anyway.
See? Totally.
After the trip to Plato's Closet, I got in the pool in my ginormous bathing suit and floated around for what was supposed to be an hour...but was actually two. I may just do that again today.
Last night, we had grilled tuna for supper, and I realized that I really do not like grilled tuna. Like at all. Give me that stuff in a can, and I'm all over it. Put it in a one inch "steak" and I'm so not. So, I ended up eating the vegetables (from Farmer Big Dave's garden) and sixty of the blue Jelly Belly jellybeans left over from the shower yesterday. I still have about two thousand more. Unfortunately.
Anyway, I'm up now after the second cup of coffee and am planning to get ready for church in a few minutes. I'm fine for now...but about 5:30 tonight (when it is time to cook dinner, of course), I'll be exhausted and ready to turn in early. At least that's been the pattern all week.
Have a wonderful day! I will try to do the same.